The Daintree and Cape Tribulation National Parks are a part of the World Heritage listed Wet Tropics, 900,000 hectares of rainforest and tropical plants. Through the volcanoes and the ice age, the primitive plants and animals of this area have been left undisturbed for 100 million years, spared both from environmental changes and the ravages of human exploitation.
In this 'living museum you can explore coastal rainforests that contain the most prolific and complex plant communities on earth, including giant palms 3000 years old. Under the rainforest canopy some of the worlds most colourful and exotic animal life can be found, and it's a haven for unique rare or endangered animals and plants. There is recognised importance of this area to medical science, and the forests and streams are believed to hold clues to the earths evolutionary history. Chances are you'll see wallabies, tree kangaroos, cassowaries, all types of birds, snakes, reptiles, crocodiles or something totally unexpected. All this beside tropical reef fringed beaches.
The area has become more accessible over the last few years with more sealed roads and visitor amenities. Hire cars are now allowed into some areas north of the river, and the 'self-drive' option is becoming quite popular. Although 'self-drivers' will often drive through an area without realising the true significance of what they are seeing. The qualified driver/guides on the group tours available provide information about the animals, plants and the wider ecosystems of each area visited. Maybe take a tour first, then venture out on your own after that.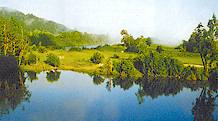 Another part of the experience is exploring the ancient Daintree River by boat. Instead of crossing the river, many stay on the south bank and take a river boat cruise with a naturalist/guide. This can be done from many points along the river, from the vehicular Ferry Crossing up to Daintree Village - see Maps. If you plan to staying north of the Daintree River there are locally based rainforest tours. The Wet Tropics World Heritage Area, which includes the spectacular coastal tropical rainforest north of the Daintree River, is more than 400 klms long. Photograph the magnificent trees and gorges of the Mossman River .. a green delight. Tree frogs, Tropical Blooms, huge buttress rooted trees covered with strangling vines, ferns, birds and butterflies.
The area is made up largely of tropical humid forests. This biotope offers a particularly extensive and varied array of plants, as well as marsupials and singing birds, along with other rare and endangered animals and plant species Within Australia the Wet Tropics Rainforest contains :

25% all plant genera
65% all fern genera
62% all butterfly genera
60% all bat genera
39% all marsupial genera
30% all frog genera
23% all reptile genera
18% all bird generera
Back to 'Daintree Rainforest'