Sophisticated and stylish, but at the same time casual and understated. The village is very laid-back, there's no traffic lights and most people walk or ride a bike around town. Fringed by majestic Four Mile Beach, right beside World Heritage listed reef and rainforest, Port Douglas is the perfect holiday destination.

The palm studded beach, shopping boutiques, Sunday markets, warm friendly locals, lavish accommodation for all budgets and food to die for. Entirely relaxing. Take a day tour to the reef or rainforest, or do nothing beside the pool. Spend the afternoon deciding where to eat. You won't be disappointed. Port Douglas has exceptional restaurants, all with unique ambience and innovative cuisine. With definite Asian and European influences, fresh global seafood and tropical fruits are often the main ingredients. You won't go hungry.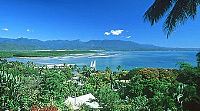 Perfectly positioned between the reef and rainforest, Port Douglas is just 1 hour drive from Cairns International Airport, and is your best base from which to explore the stunning scenery and culture of the Tropical North.
With a permanent population of less than 4000 people, it doesn't take long to get to know the town and meet some of the locals. It's also safe to walk around town day or night
Fringed by palm studded Four Mile Beach, Port Douglas has unique shopping boutiques, lavish accommodation and food to die for. Port Douglas has exceptional restaurants with innovative cuisine and a tropical ambience that reflects the warm climate.
Swimming in the sea at Four Mile Beach is ideal all year round, or take a dip in the cool, natural swimming spots at nearby Mossman Gorge National Park.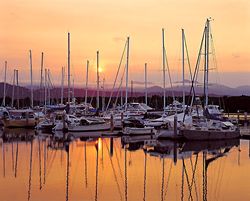 Once a thriving seaport for the Hodgkinson Goldfields to the west, Port Douglas was first settled in 1879, and named Salisbury. Through the decline of gold mining and the devastating cyclone of 1911, Port Douglas has been through boom and bust.
Most of the last century Port Douglas was a small fishing village until the early 1980's when tourism discovered this well kept secret. Still small and charming, but these days you can expect modern comforts and facilities. Take a day trip from Marina Mirage to the Great Barrier Reef, or take a day trip up the Bloomfield track to Cape Tribulation and the Daintree Rainforest.
With it's fantastic array of accommodation options, most visitors stay in Port Douglas for the majority of their stay (usually at least 1 week), then venture north to stay in the heart of the rainforest - allowing you to experience the best of the reef and rainforest. Come stay awhile, but be warned, it's hard to leave!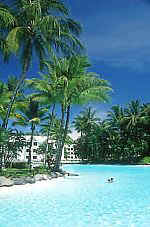 Details at a Glance
Local Time: + 10 hours GMT
Global Positioning: 16 degrees 29 minutes South
145 degrees 28 minutes East (Port Douglas)
Electricity: 240 V/50 Hz/AC
Monthly rainfall on average peaks at 500 mm in every/March and drops to about 500 mm in August.
High Season
June to December, warm/dry.
Average winter temperatures 18 degrees C, 26 degrees C, 6.5 hours sunshine. Warm clear days and cool nights, can be windy in July. Book accommodation at least one month ahead, and confirm at least three days ahead in the middle of this peak period.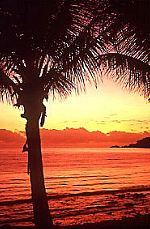 Low (Green) Season
January to May, hot/wet.
Average summer temperatures 23 degrees Celsius - 31 degrees Celsius, 7.5 hours sunshine. Although tropical storms can be unpredictable this time of year, it's one of the best times to see the reef and the rainforest.